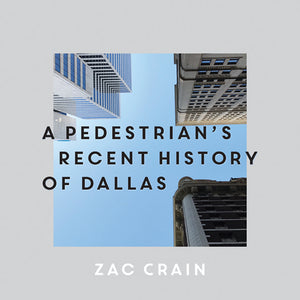 By Zac Crain
Photo series by D Magazine senior editor explores Dallas' downtown from a human, street-level perspective.
Publication Date: December 22, 2020
Hardback: 9781646050062
eBook: 9781646050093
Description
Crain's photos, taken on phones and during lunch breaks, show Dallas from a human perspective. In a city bound by car owners and wide roads, Zac Crain engages the pedestrian point of view with his infallible eye. No corner goes unexplored as Crain captures a similar place in a deeply original new way.
Biographical Note
Zac Crain is senior editor of D Magazine. He has written about the explosion in West, Texas; legendary country singer Charley Pride; Tony Dorsett's struggle with life after football; and imaginary meetings with a mosquito and a Pegasus. Crain is the author of A Pedestrian's Recent History of Dallas, published by Deep Vellum in 2020, as well as 2009's Black Tooth Grin: The High Life, Good Times, and Tragic End of "Dimebag" Darrell Abbott. He lives in Dallas.