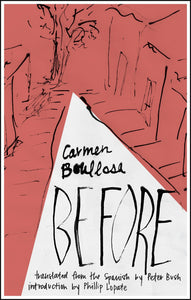 By Carmen Boullosa
Translated from the Spanish by Peter Bush
A profound and moving coming-of-age novel that explores the end of one woman's innocence in childhood.
Publication Date: August 2, 2016
Paperback: 9781941920282
ebook: 9781941920213
Description
Before is the story of a woman who returns to the landscape of her childhood to regain her innocence, knowing that in order for her to discover her identity, she must overcome the fear that held her captive as a little girl. This unique exploration of the path to womanhood and innocence lost won Mexico's most prestigious literary prize. Introduction by award-winning author Phillip Lopate.
Biographical Note
Carmen Boullosa is one of Mexico's leading novelists, poets, and playwrights. She has published over a dozen novels, two of which were designated the Best Novel Published in Mexico by the prestigious magazine Reforma—her second novel, Before, also won the renowned Xavier Villaurrutia Prize for Best Mexican Novel; and her novel La otra mano de Lepanto was also selected as one of the Top 100 Novels Published in Spanish in the past 25 years. Her most recent novel, Texas: The Great Theft won the 2014 Typographical Era Translation Award, was shortlisted for the 2015 PEN Translation Award, and has been nominated for the 2015 International Dublin Literary Award. Boullosa has received numerous prizes and honors, including a Guggenheim fellowship. Also a poet, playwright, essayist, and cultural critic, Boullosa is a Distinguished Lecturer at City College of New York, and her books have been translated into Italian, Dutch, German, French, Portuguese, Chinese, and Russian. 
Shelby Vincent received her PhD in Literary Translation from the University of Texas at Dallas's School of Arts and Humanities in 2015. 

Reviews
One of Bookriot's "7 Small Press Books to Read" (August 2016)
One of Literary Hub's "13 Translated Books by Women You Should Read"
"This 1989 novel from one of Mexico's most prolific authors won the Xavier Villarutia Prize, the country's most prestigious literary award. In its first English translation, Before offers a perfect introduction to Boullosa's fluid and powerful writing… Beneath the events Boullosa presents in often comic terms – playing childhood games with her half-sisters, visits to her grandmother, the shock of coming into womanhood at the time of her mother's death, her savage dreams – is a powerfully rendered sense of loss and separation." —Jane Ciabattari, BBC Culture
"However spectral, this fictive double of the author produces a vividly expressionist argument that the transformations of adolescence amount to the literal death of the child. She also serves up a finely observed account of how a person—specifically, a high-strung, privileged, and impatient Catholic girl like the author herself—becomes a writer." —Will Heinrich, BOMB Magazine
"Told by an unnamed, extremely sensitive, and very frightened girl, this early novel by one of Mexico's premier writers rivals Clarice Lispector's work for sheer hypnotic power." —Staff Pick at Politics & Prose Bookstore in Washington, D.C.
"Like Eimear McBride's A Girl is a Half-Formed Thing, Carmen Boullosa's peculiarly spooky novella uses formal experimentation and an uncompromising emotional honesty to explore the formation of a young woman's identity. Only a writer as fearless as Boullosa could so perfectly capture the unease of youth with such Angela Carter-like weirdness." —Gary Perry, Foyle's in London
"Carmen Boullosa's early novel Before meets the everyday with bewilderment. In this dream world of childhood, realism is nothing short of an act of magic; the supernatural suffuses the ordinary. The official narratives—of childhood and womanhood, of heresy, sacrifice and salvation — structure not just how we understand and remember our experiences, but how we talk about and write our histories." —Anna Zalokostas, Music & Literature
"Boullosa's novel is playfully subversive rather than derivative, and converses with her precursors while forging a decidedly feminine—and feminist—path for the treatment of growing up (or failing at it)." —Charlotte Whittle, Electric Literature
"Before is a small gem that brings to mind two other gems of Mexican literature: Juan Rulfo's Pedro Páramo and Carlos Fuentes's Aura. This comparison is not overstated. Like its predecessors, death is a central theme in Boullosa's novella. Before differs, however, in the playful, sometimes irreverent way in which the protagonist confronts this macabre topos." —George Henson, World Literature Today
"A ferociously intimate evisceration of her own formative personal history as well as an exploration of everything that is lost with childhood and of the places of silence that precede speaking." —Aaron Bady, Guernica
"A luminous writer . . . Boullosa is a masterful spinner of the fantastic." —Miami Herald
"…this first novel is raw and unadorned, like a vein opened up on the page." —Aaron Bady, Lit Hub
"Mexico's best woman writer." —Roberto Bolaño
"Carmen Boullosa writes with a heart-stopping command of language." —Alma Guillermoprieto
"A story and men armed by necessity and by caprice, a tale of indomitable women, a chronicle of cowboys and Indians, of African-Americans and immigrants from other parts, of captives and their keepers, of slavers and rebels." —La Journada on TEXAS
"I don't think there's a writer with more variety in themes and focuses in his or her writing. . . . The style and range of Carmen Boullosa is unique for its versatility and its enormous courage." —Juan Villoro
". . . a cross between W. G. Sebald and Gabriel García Márquez." —El País
"The world of Carmen Boullosa is revealed as a sui generis form weathering the storms of history." —Letras Libres
"Carmen Boullosa is, in my opinion, a true master." —Alvaro Mutis, author of The Adventures and Misadventures of Maqroll
"Part ghost story, part coming-of-age tale, Before is utterly haunting, mesmerizing and heartbreaking. This novel is an eerie and unforgettable masterpiece, an original take on the Central and South American tradition of magical realist literature." —Ann Mayhew, The Riveter Magazine
"What strikes the heart in Before is the profound earnestness in which the narrator explores the memories that transform her life…Boullosa captures these sensations with a poet's heart and sensibility." —Laura Farmer, The Cedar Rapids Gazette

"Everything is in flux and in motion in Before, corresponding to the narrator's emotional and psychological state leading up to and including the twin traumas of losing her mother and achieving puberty." —Rachel Cordasco, Bookishly Witty blog

"Spooky...Breathless, haunting..." —Suzanne Fischer, Tiny Letter

"The return to childhood that Carmen Boullosa has given us feels unlike any other book that I have read. I can't say enough about Boullosa's incandescent writing, which glows from within, radiating possibilities, contradictions, ambiguities." —Terry Pitts, VERTIGO
"To read either [Before or Guadalupe Nettel's The Body Where I Was Born] is to be freed, at least temporarily, from one's automatic perceptions and to be returned again to the strange and raw world of childhood." —Kat Solomon, Ploughshares
"There are moments of such excruciating authenticity that the reader is pinioned in that fraught borderland between pleasure and pain." –Leaf by Leaf, Chris Via