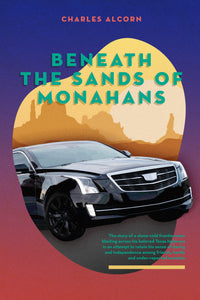 By Charlie Alcorn
The tale of a stone-cold frontiersman blasting across his beloved Texas highways attempting to retain his sense of daring and independence among friends, family, bookies and under-reported enemies.

Publication Date: August 22, 2023
Hardback: 9781646052196
eBook: 9781646052387
Description
Beneath the Sands of Monahans introduces Archie Weesatche, a hard-working orphan who's recently sold his oilfield hot shot company, Keep On Truckin'. With money in his pocket, and time on his hands, Archie launches a long-planned Tour of Texas with best friend Okinawa Watkins, gambling with a colorful cast of hand-picked boosters and bookies on high school and college football games.
Enter Mexican heiress, Josefina Montemayor, who convinces her long-ago lover that Archie's the only man she trusts to raise the $650,000 she needs to release millions in unrecovered cartel cash.
Set in a map's worth of Texas locations, this "quest" narrative explores cultural minefields, the precarious nature of oilfield booms and busts, and the tricky world of cash money gambling during a legendary winning streak.
Biographical Note

Charles Alcorn has lived in and written about Texas his entire life. A former all-state linebacker, Alcorn founded Splendid Seed Tobacco Company, was a sportswriter, and worked as a packaged goods copywriter before receiving his Ph.D. in English Literature/Creative Writing (Fiction) from the University of Houston. Alcorn's is the author of short story collection Argument Against the Good-Looking Corpse (2011, Texas Review Press). Beneath the Sands of Monahans is his debut novel. Alcorn currently lives in Edinburg on the US-Mexico border.