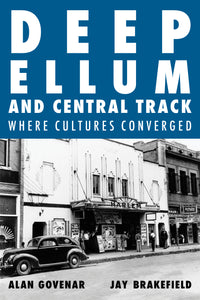 By Alan Govenar and Jay Brakefield
A new edition of the biography of Dallas's own Deep Ellum.
Publication Date: October 24, 2023
Hardback: 9781646053117
Ebook: 9781646053261

Description
Just outside of downtown Dallas lies a section of the city called Deep Ellum, where graffiti and murals decorate the walls of trendy shops, loft apartments, restaurants, nightclubs, art galleries, and tattoo studios. The area has been home to a remarkable array of businesses, creatives, and artistic practices since its birth 150 years ago as a Black center of business. Because of the area's long association with blues and jazz musicians, Deep Ellum has been shrouded in myth and misconceptions which obscure its actual history.
Alan Govenar and Jay Brakefield—using oral histories, old newspapers and photographs, city directories and maps, as well as more traditional public records and secondary sources—reveal another side of Deep Ellum which includes Central Track (formerly called Central Avenue), an area lined with Black-owned businesses which served both Black and white patrons during its heyday in the 1920s and 30s. In the Deep Ellum and Central Track areas, African Americans and whites, primarily Eastern European Jews, operated businesses from the late 19th to the mid-20th centuries, creating a unique social climate where cultural interaction took place. Much of the information in the book is presented through the stories of remarkable individuals, including professionals, pawnbrokers and other merchants, police officers, criminals, and the blues and jazz musicians who had a lasting impact on American popular music.
Biographical Information 
Alan Govenar is an award-winning writer, poet, playwright, photographer, and filmmaker. He is director of Documentary Arts, a non-profit organization he founded to advance essential perspectives on historical issues and diverse cultures. Govenar is a Guggenheim Fellow and the author of more than thirty books, including Paradise in the Smallest Thing, Stoney Knows How: Life as a Tattoo Artist, Lightnin' Hopkins, Untold Glory, Texas Blues, Stompin' at the Savoy, Everyday Music, Texas in Paris, Osceola: Memories of a Sharecropper's Daughter, and A Pillow on the Ocean of Time. His novel Boccaccio in the Berkshires was published by Deep Vellum in 2021, and his biography of Blind Lemon Jefferson, See That My Grave is Kept Clean, will be published by Deep Vellum in 2023.
Jay Fenton Brakefield is a native of Houston and graduated from the University of Houston with a BA in English in 1968. He spent four decades as a newspaper reporter and copy editor. Early on he developed a keen interest in "roots music," especially blues and jazz, and wrote a number of related articles for the Dallas Morning News. Brakefield and Alan Govenar have collaborated on a number of projects, including Deep Ellum and Central Track and See That My Grave is Kept Clean, a biography of Blind Lemon Jefferson (both forthcoming from Deep Vellum, 2023).