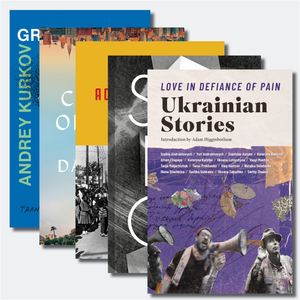 Explore our catalog through a themed eBook bundle without leaving your couch. Enjoy these five eBooks, or send to a friend!
Since our inception in 2013, Deep Vellum has worked to bring readers the best contemporary international literature. Get to know us through our greatest hits of the year!
*The digital files will automatically be emailed to you when you purchase this item. If you wish to give the ebooks as a gift, feel free to just forward the email.
Book Information
Grey Bees by Andrey Kurkov, tr. by Boris Dralyuk
Solenoid by Mircea Cărtărescu, tr. by Sean Cotter
The Accommodation by Jim Schutze, foreword by John Wiley Price
Country of Origin by Dalia Azim
Love in Defiance of Pain edited by Ali Kinsella, Zenia Tompkins, and Ross Ufberg