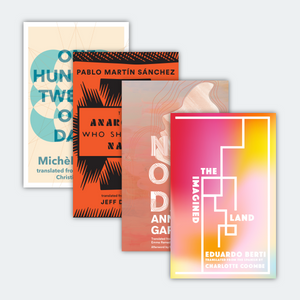 Explore our catalog through a themed eBook bundle without leaving your couch. Enjoy these four eBooks, or send to a friend!
Take a tour through our catalog of Oulipian authors, loose members of a group who impose structural restrictions on their writing (mathematical, geometric, and beyond) in order to investigate the possibilities of verse.
*The digital files will automatically be emailed to you when you purchase this item. If you wish to give the ebooks as a gift, feel free to just forward the email.
Book Information
The Imagined Land, by Eduardo Berti (tr. by Charlotte Coombe)
eBook: 9781941920626
One Hundred Twenty-One Days, by Michèle Audin (tr. by Christiana Hills)
eBook: 9781941920237
Not One Day, by Anne Garréta (tr. by Emma Ramadan)
eBook: 9781941920558
The Anarchist Who Shared My Name, by Pablo Martín Sánchez (tr. by Jeffrey Diteman)
eBook: 9781941920725