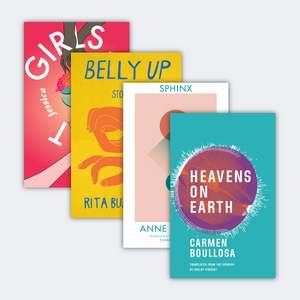 Explore our catalog through a themed eBook bundle without leaving your couch. Enjoy these four eBooks, or send to a friend!
These books dream of possibilities untold, speculating on bodies and futures that bend the realms of reality and follow exploration beyond the edges of what we know.
*The digital files will automatically be emailed to you when you purchase this item. If you wish to give the ebooks as a gift, feel free to just forward the email.
Book Information
Sphinx, by Anne Garreta (tr. by Emma Ramadan)
eBook: 9781941920084
Girls Lost, by Jessica Schiefauer (tr. by Saskia Vogel)
eBook: 9781941920961
Heavens on Earth, by Carmen Boullosa (tr. by Shelby Vincent)
eBook: 9781941920459
Belly Up, by Rita Bullwinkel
eBook: 9780998518442