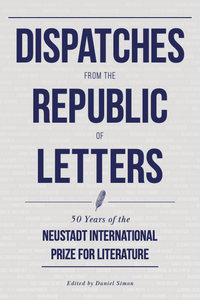 Edited by Daniel Simon
Celebrating the prize that has honored international literature's top players, from Gabriel García Márquez to Edwidge Danticat, a groundbreaking collection of Neustadt Laureate acceptance speeches and literary evocations of the muse.
Publication Date: October 20, 2020
Hardback: 9781646050338
eBook: 9781646050345
Description
"The centrifugal pull of great literature, as embodied by the work of these twenty-five writers, draws us into a fuller realization of our humanity." —Daniel Simon, editor-in-chief of World Literature Today
For the last fifty years, The Neustadt Prize has been one of the most prestigious literary prizes in the world, second only to the Nobel. Poets, novelists, and playwrights from Gabriel García Márquez to Czesław Miłosz and Dubravka Ugrešić are listed among the ranks of laureates. Now, in honor of the fiftieth anniversary, Dispatches from the Republic of Letters gathers the acceptance speeches of these twenty-five pioneering writers into one volume, edited and with an introduction by World Literature Today editor-in-chief Daniel Simon.
Biographical Note
Daniel Simon serves as World Literature Today's assistant director and editor in chief. He teaches for the Department of English at the University of Oklahoma. In addition, he is a poet, translator, and member of the Academy of American poets; his poetry collections have been translated into multiple languages.
Reviews
LONGLISTED for Reading the West Book Award
"More than mere collections of various authors' ideas about the world and about literature, Dispatches gives us a multifocal perspective on the making of world literature itself." ––Jan Steyn, 91st Meridian
"Like the prize itself, this volume is a tribute and a testament to literature, and a reward for readers." —Publishers Weekly

"Honorees have included Gabriel García Márquez, Elizabeth Bishop, Tomas Tranströmer, David Malouf, Claribel Alegría, and Dubravka Ugrešić, with obvious attention to a diverse body of writers from many traditions and ethnicities. Many of those writers have faced political repression at home… The enchanters gathered in this volume all merit our attention. A welcome anthology for readers of world letters." —Kirkus Reviews
"Like the prize itself, this volume is a tribute and a testament to literature, and a reward for readers." —Lit Hub
"We are happy that, from a place so distant from the major cultural metropoles as Norman, Oklahoma, a place that exists not only in Kafka's America, renowned authors have been recognized and awarded a literary prize that has attained such consolidated and well-deserved international standing. As we know, few literary awards in the world have kept their prestige intact. The Neustadt Prize is undoubtedly one of them, hence its value and significance." — Latin American Literature Today
 "[Dispatches from the Republic of Letters] is conversation of the highest order… If we hope to gain some insight about the true state of the nation's soul, we might consider how these writers stared into different abysses in their own countries and produced imaginative works that see all too clearly."  — Christopher Merrill, Los Angeles Review of Books