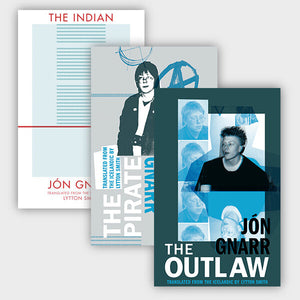 By Jón Gnarr
The childhood memoir trilogy from world-renowned Icelandic comedian, former mayor of Reyjkavík, and talented writer Jón Gnarr.
Book Information:
The Indian
Publication Date: May 5, 2015
Paperback: 9781941920121
eBook: 9781941920138
The Pirate
Publication Date: January 12, 2016
Paperback: 9781941920206
eBook: 9781941920213
The Outlaw
Publication Date: March 14, 2017
Paperback: 9781941920527
eBook: 9781941920534
Description
The Indian
The Indian is a highly entertaining piece of bittersweet autobiographical fiction by world-famous Icelandic comedian and Mayor of Reykjavik, Jón Gnarr. Gnarr revisits his tortured childhood and describes with unparalleled naturalism the experience of growing up with learning and emotional disorders in a time before either were understood or treated outside of psych wards. Bullied relentlessly, the young Gnarr lashes out at the world, unable to fit in, an outcast.
The Pirate
In The Pirate Gnarr talks freely of his troubles and traumas in the Icelandic educational system, describing the cruel bullying he suffered in school for being an outsider, his initiations as a punk rock kid, studying the philosophy of anarchism, ups and downs on the job market, and his debut as a punk rock singer. Even though the narrative is full of humor, Gnarr's journey through his troubled teenaged years is both sincere and heartbreaking as the author's journey through the Icelandic educational system was painful and full of conflict—both mentally and physically.
The Outlaw
The Outlaw describes the harsh world of Jón Gnarr's late teenage years and wrestles with painful, bleak memories of this troubled stage of his life, physically abused and surrounded by suicides. He uses punk music to cope, but also discovers an interest in girls and ponders philosophical questions of right and wrong and how to be true to himself.