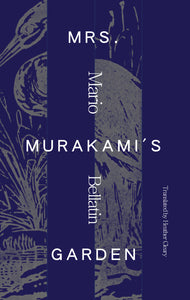 By Mario Bellatin
Translated by Heather Cleary
The latest work in English by renowned Peruvian-Mexican cult writer Mario Bellatin, a short, allegorical novel that questions truth, art, language, and the split between East and West.
Publication Date: November 24, 2020
Paperback: 9781646050291
eBook: 9781646050307
Description
From the groundbreaking author of Beauty Salon, The Large Glass, Jacob the Mutant, Mario Bellatin delivers a rousing, allegorical novel following the widowed keeper of a mysterious garden. When art student Izu's teacher asks her to visit the famous collection of Mr. Murakami, she publishes a firm rebuttal to his curation. Instead of responding with fury, the rich man pursues her hand in marriage.
When we meet her in the opening pages, Mrs. Murakami is watching the demolition of her now-dead husband's most prized part of the estate: his garden. The novel that follows takes place in a strange, not-quite-real Japan of the author's imagination. But who, in fact, holds the role of author? As Mr. Murakami's garden is demolished, so too is the narrative's authenticity, leaving the reader to wonder: did this book's creator exist at all?
Mario Bellatin has revolutionized the state of Latin American literature with his experimental, shocking novels. With this brand-new, highly anticipated edition of Mrs. Murakami's Garden from lauded translator Heather Cleary, readers have access to a playful modern classic that transcends reality.

Biographical Note
Mario Bellatin (born in Mexico, 1960) has already gained a status as one of the greatest living Mexican writers. Bellatin, who has been called "controversial," "a cult writer," and an "eccentric public figure," is the author of dozens of intricate, compelling, and absolutely unique novels that have won numerous international literary awards, including the José Donoso Ibero-American Literature Prize, the Premio Xavier Villaurrutia, the Premio Nacional de Literatura Mazatlán, the Barbara Gittings Literature Award, the Antonin Artaud Award, and the José María Arguedas Prize. Bellatin's works have been translated into 21 languages. Previous books published in English include Beauty Salon, The Large Glass, Shiki Nagaoka: A Nose for Fiction, The Transparent Bird's Gaze, and Jacob the Mutant. He lives in Mexico City.
Reviews
Featured in The New York Times' Globetrotting
"Bellatin is a playful novelist who isn't trying to hold the mirror to reality, provide allegory or philosophy or life lessons, and reading this provocative novella makes one consider all sorts of assumptions about why read?' and 'why write?' (Mrs. Murakami's Garden is) fiction that explores not only what it means, but why it matters." ––Kirkus Reviews
"People often say, with a lot of truth to it, that all good fiction writing comes from some wound, out of some distance that needs to be breached between a writer and normalcy. In Mario's sense, the wound is literal and comes with all kinds of psychological nuance and pain, and seems related to sexuality and desire, the desire for a whole body. One of my favorite aspects of him is this sense that he is writing for all the freaks — either literally freaks or privately and metaphorically, that he really touches us." —Francisco Goldman

"Mario Bellatin, who has the fortune or misfortune of being considered Mexican by the Mexicans and Peruvian by the Peruvians [is one of the] writers without whom there's no understanding of this entelechy that we call new Latin American literature." —Roberto Bolaño