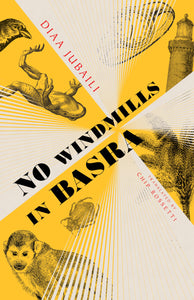 By Diaa Jubaili
Translated by Chip Rossetti
A bold, imaginative collection of short stories set in Southern Iraq from prolific, award-winning novelist Diaa Jubaili.
Publication Date: September 6, 2022
Paperback: 9781646051861
eBook: 9781646051878
Description
Influenced in turn by the long tradition of Arabic folktales and the magical realism of Latin America, the stories in No Windmills in Basra reflect a reality tinged by the city's history with war. Yet the fantastic and playful peek through, offering an astounding breadth of images in only a few lines per story.
In "Mubarak," a security guard for a chicken plant discovers his own wings after a bomb explosion. In "The Taste of Death," long-buried Iraqi and Iranian soldiers rise from their unmarked graves, dissatisfied with the landscape's returning verdancy. Set in the southern Iraqi city of Basra, where the author still lives, these fleeting stories oscillate between whimsy and tragedy.
Biographical Information
Diaa Jubaili was born in 1977 in Basra, Iraq, where he still lives. He is the author of eight novels, including The Curse of the Marquis, which won the Dubai Magazine Award, and three short story collections, including What Will We Do Without Calvino?, winner of the Tayeb Salih International Award for Creative Writing, and No Windmills in Basra, winner of the Almultaqa Prize for the Short Story. He was a contributor to the short story collection Iraq +100 and has written for the Guardian.
Chip Rossetti has a Ph.D. in modern Arabic literature from the University of Pennsylvania, and wrote his dissertation on the contemporary Iraqi writer Muhammad Khudayyir. His published translations include the novel Beirut, Beirut by Sonallah Ibrahim; the graphic novel Metro: A Story of Cairo by Magdy El Shafee; and Utopia by Ahmed Khaled Towfik. His translations have also appeared in Asymptote, The White Review, Banipal, and Words Without Borders. He has worked in book publishing for over twenty years and is currently the Editorial Director for the Library of Arabic Literature at New York University Press.
Reviews
"Jubaili's captivating stories are short, sharp bursts of inventiveness. He concocts bizarre character studies, outlandish bite-sized dramas, and tales that feel like absurd fables or warped allegories." -Malcom Forbes, The National News
"In this fantastic, sobering, and imagistic collection, Diaa Jubaili uses the folktale traditions of Iraq to reflect newly on war, country, and national history...the characters of these stories defy their grave realities with feats of imagination, in bold and moving demonstrations of how the mind can transcend matter...In humanizing the struggles of Iraq across its conflicts, Jubaili addresses the horrors of war with philosophical wit and metaphysical possibility." -Laurel Taylor, Asymptote Journal
"[The] book offers an intriguing glimpse of an important and, for many English speakers, poorly understood part of the world." -David Conrads, The Christian Science Monitor
"[In Jubaili's stories], we find the defiance of a wide-ranging imagination that weaves everything that has gone before into brilliant short story texts, stories that are difficult to forget once you've read them... [the novel] impels readers to regard the world around them as narrative possibilities, as seeds for stories that demand a bold imagination like Jubaili's." —Ahmed Saadawi, author of Frankenstein in Baghdad
"After a lengthy and many-sided debate...the most deserving winner is the Iraqi writer Diaa Jubaili for his collection 'No Windmills in Basra'...It deals with the subject of war in a way that combines realism and fantasy. With a sardonic narrative style, he has made war the subject of a great question with an importance that runs from mockery and nihilism to a sincere desire to be rescued from the absurdity of death. The stories in the collection observe the repercussions to Iraq of three wars, starting from the Iran-Iraq War, through the Gulf War to the wave of extremism that Iraq still struggles with today." —Judges' Panel, Almultaqa Short Story Prize
"Most of the stories depend on irony, thanks to their deceptively simple language, and their attempt to draw the reader to remote and difficult-to-access worlds, such as the world of childhood, or to womanhood, motherhood, and other situations, like war and love, and in a style that sometimes veers toward sarcasm and mockery, but that also confronts great questions via critical insights on the tongues of dreaming children, defeated women, and men swallowed up by oblivion, those who have no one to remember them other than stories." —Al-Dustur
"... an author with abundant skills in narrative and storytelling... he surprises you with clever endings that seem like creative jolts... The stories themselves have a visible radiance and liveliness in their structure, and in their expressions that clamor with meanings, when they turn their attention to the interiors of characters, where there is pain and hope, confidential secrets and confusion, tension and feeling, where there are rivers of emotions, in the moments of waiting for a prisoner who never returns, or a soldier going to war, or the death by bombardment of cultivated fields." —Al-Araby
"The reader may not find anything to laugh about in these stories, but at the same time, he can get his hands on a bitter fruit he can sink his teeth into from the first page to the last, without warning." —Al-Muraqeb al-Iraqi