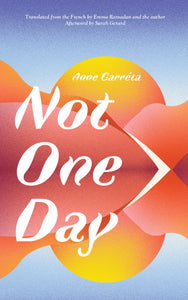 By Anne Garréta
Translated from the French by Emma Ramadan and the author
Afterword by Sarah Gerard
Second edition
Winner of Prix Médicis 2002
Winner of the 2018 Albertine Prize
Finalist for the 2018 Lamba Literary Award
Finalist for the 2018 French American Foundation Translation Prize
Available in a new edition, Anne Garréta's sensual portrayal of trysts past.
Publication Date: February 28, 2023
Paperback: 9781646052059
eBook: 9781646052318
Description
Not One Day begins with a maxim: "Not one day without a woman." What follows is an intimate, erotic, and sometimes bitter recounting of loves and lovers past, breathtakingly written, exploring the interplay between memory, fantasy, and desire. Organized alphabetically, Not One Day remembers the evanescent thrill of each encounter, dismissing the ultimatum of truth in favor of an enigmatic assemblage.
"For life is too short to submit to reading poorly written books and sleeping with women one does not love."
Biographical Notes
Anne Garréta, author of the groundbreaking novel Sphinx (Deep Vellum, 2015), is a member of the renowned Oulipo literary group. Not One Day won the Prix Médicis in 2002, recognizing Garréta as an author "whose fame does not yet match their talent." Garréta is also the author of In Concrete, translated by Emma Ramadan (Deep Vellum, 2021).
Emma Ramadan is a literary translator of poetry and prose from France, the Middle East, and North Africa. She is the recipient of a Fulbright, an NEA Translation Fellowship, a PEN/Heim grant, and the 2018 Albertine Prize. Her translations for Deep Vellum include Anne Garréta's Sphinx and In Concrete, Fouad Laroui's The Curious Case of Dassoukine's Trousers, and Brice Matthieussent's Revenge of the Translator.
Reviews
One of Literary Hub's "30 Books We're Looking Forward To" in 2017
Recommended in CLMP's 2020 "Reading List for Pride Month & Beyond"
Selected by Words Without Borders as one of "8 Queer Books in Translation to Read for Pride Month 2020"
Recommended in Flavorwire's "22 Essential Women Writers to Read in Translation"
One of The New Yorker's "Best Books We Read in 2021"
"I could smother the book with adoration—it is aching and maddening, intelligent and wildly sexy. But it would be simpler to say that reading it is like meeting someone new and feeling the world come undone. Here is a book that insists that the desire for fiction, for its mimicry and its mirage, is indistinguishable from the desire for another person." —Merve Emre, The New Yorker

"Winner of the Prix Medicis, this intense collection of Garreta's memories of past loves—written under strict Oulipian constraints—is at times at once tender, bitter, and intimate." —Literary Hub
"Garréta more or less perfected the post-modern confessional, doing so with a self-awareness that many authors fail to accomplish… Not One Day is a casual revelation; a delight." —Sean Redmond, fields Magazine
"Deep Vellum has brought out one of the best books I've read this year, one whose compact nature contains more room inside than might be guessed from its modest exterior. Happily, Anne Garréta's ambition is to create books that are not the products of an assembly line." —Jeff Bursey, The Winnipeg Review
Excerpt
ANTE SCRIPTUM
What to do about one's inclinations?
You could write something different, differently than you usually do. Once again, but with a new twist, rid yourself of your self. Shed the forms that witness this disentangling, try to differ even more from what you believe yourself to be. Since you can't seem to conceive of writing except in long and carefully considered constructions, isn't it time to go against the grain?
The next novel you're envisioning, the calculations you're mulling over, will take you years of research, composition, writing. You pity your few readers and always take care not to exceed their patience and good will. In the meantime, you would like to offer them what you suspect they desire: a distraction, the illusion of an unveiling of what they imagine to be a subject. For they charitably assume you to be—a common failing up until perhaps a bit further into the future—a real me.
Since you don't have the heart to tell them (and besides, they would refuse to believe this terrifying bit of news, since we haven't yet managed to sleep off the dead drunkenness of our little self) that no subject ever expresses itself in any narration, you have resolved to feign, (or at least to borrow), the incline one now thinks of as natural, and to force yourself into the genre of writing formerly called "intimate." Recount our lives is all we seem to do these days, through the angle thought for more than a century to give it meaning, to be the universal key. In short, the skeleton key of subjectivity: desire.
And you could say, like—and against—Rousseau, he himself who inaugurated or completed our corruption: "We must have spectacles in the metropolises of the post-modern era, and confessions for idolatrous people. I have seen the mores of my times, and I have published these letters. Would I had lived in an age when I should have thrown them into the fire!"
The irony delights you before you have even written a line. You will play at a very old game that has become the hobbyhorse of a modernity balking at radical disenchantment: confession, or how to scrape the bottoms of mirrors.
On a September day in 1835, on a path near Lake Albano, Stendhal or Henry Beyle or Henry Brulard—which of the three? Who knows…perhaps all three at once—draws in the sand the initials of the women he has loved: V, An, Ad, M, Mi, Al, Aine, Apg, Mde, C, G, Aur, and finally Mme Azur. The first name of this last one escapes him. The list of an unlucky Don Juan: "In reality, I had only six of the women I have loved."
H.B. here offers you the outline of a project, melancholic, tinged with cruel irony, and rather well suited to your convalescence: the stammering alphabet of desire.
If you aim to thwart your habits and your inclinations, you might as well go about it systematically. Here is the discipline you have resolved (one cannot more radically differ nor dissemble from oneself any more than you set about doing here). It amounts to a maxim: Not one day without a woman.
Which simply means that you will allocate five hours (the time it takes a moderately well-trained subject to compose a standard academic essay) each day, for a month, at your computer, to recount the memory you have of one woman or other whom you have desired or who has desired you. The narrative will be just that: the unwinding of memory in the strict framework of a determined moment.
You will write as one goes to the office; you will be the functionary of your desire's memory, thirty-five hours a week. Neither more nor less than five hours per initial.
You will take them in the order in which they come back to mind. You will then put them down in the impersonal order of the alphabet. To hell with chronology.
You forbid yourself from using your usual tools: no pen, nothing but the keyboard. No draft, no notebook to gather bits and pieces, no considered and composed architecture, no other rule than these, purely material and logistical, that you assign to the act.
No other principle than to write from memory. Not things as they happened, nor reconstructed as they could have been, nor as you would have wished them to be, but how they appear to you at the precise moment you recall them.
At your chopping block, you will purely decimate your memories. And what does it matter if at the end of your five hours of recollection, nothing will have been consummated?