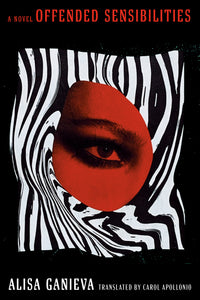 By Alisa Ganieva
Translated from the Russian by Dr. Carol Apollonio
Newest from political fictionalist Alisa Ganieva, the portrait of a legal system in which everything is broken and no one is innocent.
Publication Date: November 8, 2022
Paperback: 9781646052233
Ebook: 9781646052493
Description
Offended Sensibilities chronicles a series of sudden deaths that occur among officials of a provincial Russian town. The events in the plot relate to the notorious recent law banning forms of expression that "offend the sensibilities" of religious believers.
With this novel, Ganieva moves beyond the Dagestani setting and themes of her previous writing to address contemporary themes such as nationalism, Orthodox religiosity, sexuality, and political corruption. She addresses these weighty issues with a light touch and at times rollicking sense of humor that will keep the reader turning the pages. This timely, entertaining and thought-provoking novel can be read as an allegory for the current political, social, religious, and cultural climate in Russia today.
Biographical Note
Alisa Ganieva is a writer of fiction and essays. In 2009, her first long story - "Salam, Dalgat!" about her native land in the Caucasus - won the prestigious Debut Prize a major literary award for young writers. Ganieva is the author of three novels, all of which have been published in English by Deep Vellum: Bride and Groom, The Mountain and the Wall, and Offended Sensibilities.
Carol Apollonio teaches at Duke University. She is the author and editor of books about Russian literature, including Simply Chekhov and Dostoevsky's Secrets; Chekhov's Letters (with Radislav Lapushin); The New Russian Dostoevsky; and Chekhov for the 21st Century (with Angela Brintlinger). A former conference interpreter, she has translated books from Russian and Japanese.