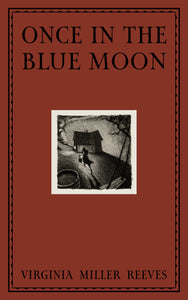 By Virginia Reeves
Illustrated by Kyle Hobratschk
Publication Date: 03/05/2024
Hardback: 9781646053025
eBook:
Description
Written with profound beauty and a clear, distinct voice, Once in the Blue Moon is a unique book presenting a young girl's point of view on a crucial turning point in her family's life in rural, World War II-era Oklahoma.
Biographical Note
Virginia Miller Reeves was a rural "home delivery baby." She grew up in Oklahoma and is still married to the boy she met at 14 after leaving the farm. A daughter, mother, grandmother, teacher, realtor, world traveling corporate spouse, SMU student, civic volunteer, fund raiser, preservationist, and racher she has lived across the economic spectrum. The story of Once in the Blue Moon was inspired by the author's own family history. Virginia Miller Reeves currently lives with her husband in Dallas, Texas and at their ranch home south of Fort Worth.