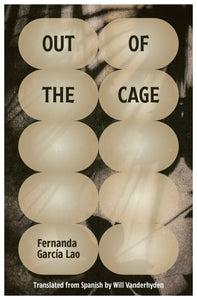 By Fernanda García Lao
Translated by Will Vanderhyden
After a freakish death, a young Argentinian woman is left to observe the world outside of the "cage" of her body; through jarring vignettes and ruminations, acclaimed author García Lao creates a complex, intelligent, and subversive theater of the absurd.
Publication Date: April 13, 2021
Paperback: 9781646050451
eBook: 9781646050468
Description
Out of the Cage opens in 1956, in Argentina, with the freakish death of Aurora Berro, and descends into a dark philosophical exploration of humanity and mortality. In the midst of her family's celebration of a national holiday, an LP, careening through the air like a "demented boomerang," severs her jugular. Her family— an agglomeration of perversions, deformities, and obsessions—seems at first not to notice, singing on. Aurora is left behind in a voyeuristic limbo as an omniscient first-person narrator, to observe the depravity of her family and reflect on the farce of her life and human existence.

Fernanda García Lao has been called "the strangest writer of Argentine literature," and in Out of the Cage, she lives up to that distinction. The book is saturated in strangeness, a blend of formal experimentation, eroticism, grotesque theatricality, and dark humor that evokes the absurdist fictions of Witold Gombrowicz and the style of Silvina Ocampo. The result is a macabre and fantastic vaudeville, a tragicomedy, a kind of Dadaist opus against ideas of eternal beauty and fixed identity, against absolute concepts and universality.

Biographical Note
Fernanda García Lao is an Argentine novelist, poet, and playwright, referred to as "the strangest writer of Argentine literature." She was born in Mendoza, Argentina in 1966 to two left wing journalists, who in 1975 were forced to flee to Spain where they lived in exile for nearly twenty years. Fernanda received her education in Spain, studying acting, dance, music, and journalism. When she returned to Argentina in the early nineties, she was trained further as an actress, playwright, and director. She is the author of several novels, plays, and one collection of short stories. Her novels and stories have received wide acclaim and accolades, and have been translated into French, Portuguese, and Swiss. At the 2011 Guadalajara Book Fair, Garcia Lao was named one of the "25 Best Kept Secrets of Latin American Literature." This is her first book in English.
Reviews
"She's the best there is at portraying absurdity. There's never been anyone like her and nor will there be. Fernanda García Lao is the strangest writer in Argentine literature." —Silvina Friera, PÁGINA12

"In her new novel Out of the Cage, Fernanda García Lao composes a delirious story, accompanied by Peronist mysticism and twists that look like science fiction – such as the construction of a kind of female-third-world Frankenstein… the wandering soul that tells this story from an interdimensional space." —Dolores Pruneda Paz, Télam