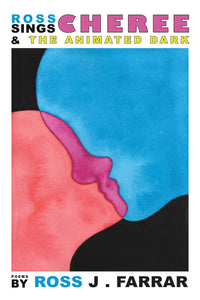 By Ross John Farrar
Publication Date: April 6, 2021 
From renowned vocalist of bands Ceremony, Spice, and Crisis Man, a darkly cathartic debut collection that crosses Samuel Beckett and hardcore punk. 
Paperback: 9781646050536
eBook: 9781646050543
Description
A native of the Bay Area, Ross J. Farrar is an internationally renowned singer, songwriter, and lyricist for the post-punk band, Ceremony. In his debut book of poetry, Farrar conjures a narrative voice that evokes Alan Vega of the band Suicide and other New York school artists as he contemplates life outside of music. Farrar's poems glide between hazy evocations of being young on the West Coast, working at an adult bookstore, and drinking with friends, alongside layers of darker experiences: visiting the graves of friends and loved ones, leaving Cheree, the 2016 election. He mulls over the lost landmarks of his youth in San Francisco and a relationship both heartwrenching and ultimately failing.
*Signed copies available! Please indicate your request for a signed edition in notes at checkout.*
Reviews
"Ross Farrar, the front man for Ceremony, has written a book of poems that is as melodic, fierce, and uncompromising as his music. His work confronts the ways we connive with our own fate even as we feel powerless to change it. His penchant for the surreal is underwritten by quiet introspection that doesn't shy away from acknowledging the 'big sins fanning out from every pore.' These poems are brave, scrappy, and full of heart." — Tom Sleigh, author of Space Walk, House of Run, and Station Zed
"Ross Farrar's poems are twisted in the best way. Twisted by America, a golden Cadillac, music, and desire. Twisted by Planet Moon and Rotten Sun. That twist is often a stunning torque to the body/mind that wrenches you out of your easy modes of perception and makes something thrilling as a recompense for the cruel and mean. It's like a record that makes you sad, but you must listen to it again and again for its 'terrifying & magical' manner." — Bruce Smith, author of Spill, The Other Lover, and Devotions
"In Ross Farrar's debut collection, Ross Sings Cheree & the Animated Dark, the poems' speaker recognizes the world as the place where "your bad trips are really your good trips." Moving through physical and emotional landscapes of loss and destruction, "Ross" begins to understand the inherent beauty in such places and states of being. How do we go on when we lose someone? How do we live between the earthquake's wreckage and the waves invitation to swim? to drown? The metaphorical gun to his own head, "Ross" chooses beauty, manifested in abundance between the covers of this powerful book." - Chris Kennedy
"Ross Farrar is a master of writing about the everyday nothings that ruin a life but also make a life beautiful—the essential mysteries of why you might love someone one minute, and hate them the next, then love them again. And perhaps more importantly, why does death happen to people we love/hate?  His beautiful book Ross Sings Cheree & the Animated Dark wraps words around these mysteries so that they give shape to them without straining for answers or false hope.   If you are baffled or lost or human, these poems are friendly, slightly drunk companions to accompany you as you muddle through.  Read them—there is much comfort in their glorious bewilderment." - Sarah C. Harwell
"Ross Farrar keeps letting us know in his poems: amazing things can happen if we both step up, and he steps up. He shares the freedom of his willingness to surrender to the unexpected. He takes us where we use keener attention to find our bearings. His combination of urgent uncertainty and spoken immediacy, of idiom and invention, bursts with feeling and discovery. Ross Farrar keeps finding what his art requires. To quote Ross's own heartfelt citation of the Gospel according to Wu Tang Clan,  Word is bond. In these poems, Word is bond." - Brooks Haxton

Biographical Note
Ross John Farrar was born in San Francisco and spent much of his young adult life playing music in the band Ceremony. In his late twenties, he decided to go back to school, finishing his undergraduate at University of California, Berkeley, followed by an MFA in Poetry at Syracuse University. His work can be found
in RHINO Poetry, Heartworm Reader, The Chaffey Review, Riprap Journal, and Canary. He has published one book, comprised of literary mixed media, Society Verse (Bridge9 Press, 2010), and one chapbook, The L-Shaped Man Poems (Matador, 2015). Ross Sings Cheree & the Animated Dark is his debut poetry collection.