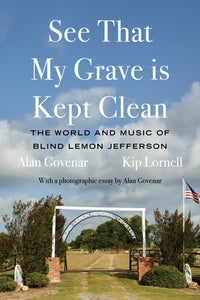 By Alan Govenar and Kip Lornell
Publication Date: October 24, 2023
Hardback: 9781646053124
Ebook: 9781646053124

Description
A new biography of beloved but mysterious Blind Lemon Jefferson, famous blues musician. Born in 1897, Jefferson was a blind street musician who played his guitar at the corner of Elm Street and Central Avenue in the Deep Ellum area of Dallas, Texas, until a Paramount Records scout discovered him. Between 1926 and his untimely death in 1929, Jefferson made more than 80 records and became the biggest-selling blues singer in America. Although his recordings are extensive, details about his life are relatively few. Through Govenar and Brakefield's extensive interviews and research, See That My Grave is Kept Clean gathers the scattered facts behind Blind Lemon Jefferson's mythic representations.
Biographical Information 
Alan Govenar is an award-winning writer, poet, playwright, photographer, and filmmaker. He is director of Documentary Arts, a non-profit organization he founded to advance essential perspectives on historical issues and diverse cultures. Govenar is a Guggenheim Fellow and the author of more than thirty books, including Paradise in the Smallest Thing, Stoney Knows How: Life as a Tattoo Artist, Lightnin' Hopkins, Untold Glory, Texas Blues, Stompin' at the Savoy, Everyday Music, Texas in Paris, Osceola: Memories of a Sharecropper's Daughter, and A Pillow on the Ocean of Time. His novel Boccaccio in the Berkshires was published by Deep Vellum in 2021, and his biography of Blind Lemon Jefferson, See That My Grave is Kept Clean, will be published by Deep Vellum in 2023.
Kip Lornell taught courses in American music and ethnomusicology at George Washington University from 1992 until 2023 and lives in Silver Spring, Maryland. He has published 17 previous books on topics ranging from Black gospel quartets to bluegrass in Washington DC to a biography of Lead Belly. Since 1972 his research has been supported by grants and fellowships from the NEA, NEH, and the Smithsonian Institution.