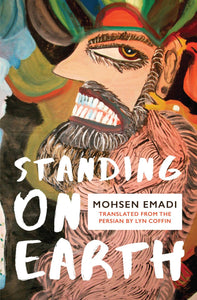 By Mohsen Emadi
Translated from the Persian by Lyn Coffin
In his poems of memory and displacement, Iranian poet Mohsen Emadi charts his experience of exile with vivid, often haunting imagery and a child's love of language.
Publication Date: November 8, 2016
Paperback: 9781944700003
Description
In his poems of memory and displacement, Iranian poet Mohsen Emadi charts his experience of exile with vivid, often haunting, imagery and a child's love of language. Lyn Coffin's translations from the Persian allow Emadi's poems to inhabit the English language as their own, as the poet recasts his earliest memories and deepest loves over the forges of being "someone who goes to bed in one city and wakes up in another city." Alternating between acceptance and despair, tenderness and toughness, he writes, "I wanted to be a physicist," but "Your kisses made me a poet." Mohsen Emadi is a powerful witness to life in the present times, and Standing on Earth introduces a major world poet to an English-language readership for the first time.

Reviews
"Mohsen Emadi is one of the brightest stars of twenty-first century Persian poetry. Widely known in Iran and Spain, it is time for us to discover Emadi through Lyn Coffin's brilliant English translations. Enter a brilliant mind's meditation through the metaphorical language of the heart." —Sholeh Wolpe
"Emadi has become a citizen of the world of poetry, an artist in service to a Muse that taught him that becoming a poet meant 'discovering the danger of existence and the beauty of childhood'…His poems are experiences that can be lived only through language." —Sam Hamill
"Standing on Earth by Mohsen Emadi is a suddenness of echoes mooring us to the mystical within. The poems witness sorrow lifting, a nation sinking, and breath colliding with itself. A solitude lingers at the heart of each line. A profound reflection. An infinite sigh. This collection, lyrical and imagistic, where between death and silence is remembrance, where shadow after shadow resides, 'whispers: guess who it is…' And the poet leaves us wondering because it is wonder that takes us closer to love's many versions, to an intimacy weaved in nation and exile. The poems in this unforgettable collection ground us, and give us flight." —Nathalie Handal
"To put it simply, Lyn Coffin's words are beautiful and brimming with potency, because Mohsen Emadi's words are beautiful and brimming with potency." —John Venegas, Angel City Review
Excerpt
9
Death is when the heart does not beat and the clock beats.
Love is when the heart beats and the clock does not beat.
Perhaps this simple comparison explains
why you glanced at your watch.
You knew that waiting is the dense endurance of eternity
and love, the miracle of mortals,
makes eternity ashamed,
but death does not wait for anybody.
The long summer afternoon
was going down on coffins and clock towers
the ruins knew
and you did not know
that war makes waiting invalid
and saving life
the whole Truth.
Was she dead?
Had she fled without you?
Or you were not in love anymore?
The dead were not answering.
The living were escaping
and love from then on
beat within
the pulsing of a clock.
Biographical Note
Born in Iran, Mohsen Emadi is the award-winning author of four collections of poetry published in Iran and Spain. He has also translate numerous collections of poetry. Emadi studied Computer Engineering in Sharif University of Technology in Iran and Digital Culture at the University of Jyvskyl in Finland. He is the founder and manager of Ahmad Shamlous official website,and The House of World Poets, a Persian anthology of world poetry featuring more than 500 poets from around the world. He was awarded the Premio de Poesa de Miedo in 2010 and IV Beca de Antonio Machado in 2011. Emadi has lived in Iran, Finland, the Czech Republic, and Spain, and is now based in Mexico City.
Lyn Coffin is a widely published poet, translator, playwright, and fiction writer. Her translation of Rustaveli's The Knight in the Panther Skin appeared in 2015. She has published nineteen books. She teaches professional and continuing education at the University of Washington and lives in Seattle.