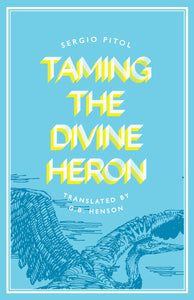 By Sergio Pitol
Translated by George Henson
The second novel in Pitol's Carnival trilogy following The Love Parade continues his daring, genre-melding, picaresque style. 
Publication Date: November 14, 2023
Paperback:  9781646052769
eBook: 9781646052974
Description
From the famous Mexican author, Sergio Pitol, comes his 1988 classic translated by George Henson. Taming the Divine Heron tells the semi-autobiographical story of a novelist working on his newest masterpiece. The protagonist struggles to tell the perfect story—his own imagined protagonists mere imitations of the likes of Lord Jim and Alyosha Karamavoz. To help eradicate writer's block, Pitol uses his vessel to praise his own favorite authors. Pitol applauds Bakhtin's world building, Gogol's "carnivalesque [literary] breath," and Dante's dizzying intensity. The character finds a muse in Marietta Karapetiz, whom he aptly dubs Dante C. de la Estrella, and the two debate the literary greats.
As the pair attempts to pull from the techniques of the world's best writers, Pitol creates a love letter to literature from around the globe while simultaneously telling his own magical story. To quote Pitol's protagonist, "the quality of the story, its effects, its brilliance, its intensity, ma[k]e the most absurd circumstances plausible." Taming The Divine Heron, second in a trilogy including already-published The Love Parade (Deep Vellum, 2022), houses history, hyperrealism, myth, folklore, and memoir; to read Pitol is to appreciate the power of language.
Biographical Information
Sergio Pitol Demeneghi (1933-2018) was one of Mexico's most influential and well-respected writers, born in the city of Puebla. He studied law and philosophy in Mexico City and spent many years as a cultural attaché in Mexican embassies and consulates across the globe, including Poland, Hungary, Italy, and China. He is renowned for his intellectual career in both the field of literary creation and translation, with numerous novels, stories, criticisms, and translations to his name. Pitol is an influential contemporary of the most well-known authors of the Latin American "Boom," and began publishing his works in the 1960s. In recognition of the importance of his entire canon of work, Pitol was awarded the two most important prizes in the Spanish language world: the Juan Rulfo Prize in 1999 (now known as the FIL Literary Award in Romance Languages) and the Cervantes Prize, the most prestigious Spanish language literary prize, often called the "Spanish language Nobel," in 2005.
George Henson is the author of 10 book length translations, including works by Cervantes laureates Sergio Pitol (published by Deep Vellum) and Elena Poniatowska. His translations have appeared variously in Words Without Borders, Asymptote, Latin American Literature Today, World Literature Today, Granta, and The New England Review. He holds a PhD from the University of Texas at Dallas and is an adjunct professor of Spanish translation at the Middlebury Institute of International Studies in Monterey. George is a 2021-2023 Tulsa Artist Fellow in literary translation.