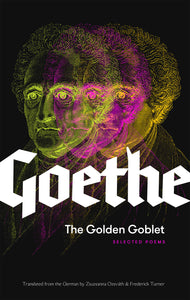 By Johann Wolfgang Goethe
Translated by Zsuzsanna Ozsváth & Frederick Turner
The Golden Goblet: Selected Poems of Goethe. Vivid and lyrical, this new translation of Goethe's selected poetry—Deep Vellum's first book of poetry!—captures the formal perfection of his style and illuminates him as a profoundly visionary philosopher, storyteller, and revolutionary.
Publication Date: April 12, 2019
Paperback: 9781941920794
eBook: 9781941920800
Description
The Golden Goblet traces Johann Wolfgang von Goethe's poetry from the idealism of youth to the liberation of maturity. In contrast to his rococo contemporaries, Goethe's poetry draws on the graceful simplicity of German folk rhythms to develop complex, transcendent themes. This robust selection, artfully translated by Zsuzsanna Ozsváth and Frederick Turner, explores transformation, revolution, and illumination in Goethe's lush lyrical style that forever altered the course of German literature.